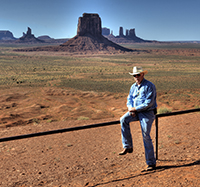 The Exploration of the Inner & Outer Landscapes

As an artist in the medium of photography, I have often focused on landscapes large and small because I like to be in the outdoors in beautiful and inspiring places. To catch a sunset, a sunrise, or the symmetry of a scene at the right moment brings a satisfaction that is hard to duplicate. Such images are in a number of galleries including Landscapes, Switzerland, A Day at the Beach, Theme and Variations on a Foggy Woods, and Maryland's Eastern Shore and the Chesapeake Bay. It is sad but true, however, that not all landscapes are beautiful; some are rendered ugly by man's impact on our natural world. For an example, see my gallery Human Impact on Our Land.

As a psychoanalyst, a focus of my life has been the exploration of the inner worlds of the men and women with whom I have been privileged to work. Those inner landscapes are poetic, vivid, and endlessly fascinating. While psychoanalysis has usually been thought of as a verbal medium and the forms used by the unconscious are closely allied to poetry, the images that are created in the mind's eye can be visually magnificent.

Lately, I have been intrigued by the challenge and the opportunity of trying to express the poetry of the unconscious—as expressed most vividly in fantasies and dreams—in visual terms. In the Conceptual, In the Mind's Eye, Boston Images, and Inner Darkness Galleries this website contains my attempts to rise to the challenge of rendering the metaphors, allegories, similes, and substitutions (to mention just a few of the poetic tools used by the unconscious) in the language of photography. The In the Mind's Eye series has a relatively happy story to tell and a happy ending but not so with my Inner Darkness Gallery. Yet both speak to a genuine part of the human psyche.

In psychoanalytic concepts, the ego is first and foremost a body ego. What that means is that early in life we first get to know ourselves through the sensations of our bodies, both those from the outside and the inside. When we touch someone, our bodies feel both the outer and inner sensations from that touch, which defines both the person being touched and the person doing the touching. In the sense of defining our world, the human body is without parallel. We grow up to cover our bodies, feel shame, and have artificial standards of beauty but the body never loses its significance. I have tried to capture that significance in my Nude Studies Gallery. There are very closely related elements in the In the Mind's Eye Gallery.

In other words, the Galleries of this website look at both outer and inner spaces. My hope is that you will bring your own intuition and artistry to bear to expand any and all of my images, since those images mark the beginning of the exploration, not the end.

One brief technical note. All my images are processed in ProPhoto color space which has the widest gamut of color available at present. The images are also on the site in ProPhoto instead of the usual, more limited, sRGB color space. While my images look fine on my web browser and computer screen, if you are using older or more limited equipment, the colors may look washed out. I hope that isn't true and apologize if it is. I just want the images, which are 16 bit depth by and large, to look their best. Just please bear with it because browsers and screens are catching up. But if you do have problems, let me know in the "contact me" below.
If you go through some of the galleries, you will notice that some images are marked "limited series of 25." All my prints are sold in limited series of 25 but that hasn't necessarily been stated for every image. Where it is stated, those images are usually ones that have won or placed in competitions, have had gallery shows, or have been published so they have an independent statement of quality and/or have already been sold as a print.
All imagery is copyrighted © by Jon Meyer. Please contact me for information about licensing images or purchasing a custom print. I will be happy to discuss options and materials with you. The vast majority of my images are from large digital files which allows flexibility in the size of custom prints.